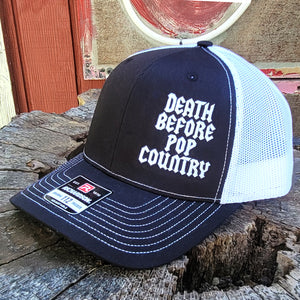 IMPORTANT NOTICE: Anything ordered after Dec 16th

 

3pm. Will not make it by Dec 25th.
Death Before Pop Country adjustable Black on White Richardson 112 trucker style caps.
Stitching is white.
Very comfortable clean style cap. 
XL fits very similar to the regular caps but has more space available for the 7-3/4 to 8 crowd. I personally wear a 7 3/4 to 8 and the feel is very nice.
Will fit a 7-1/2 perfectly.
Awesome Product
Love both these products! The artwork on the shirt is awesome being that the Man In Black is my all time favorite artist, glad I got it before it went away forever. And the hat is perfect! Love Richardson hats and the message! Death Before Pop Country!